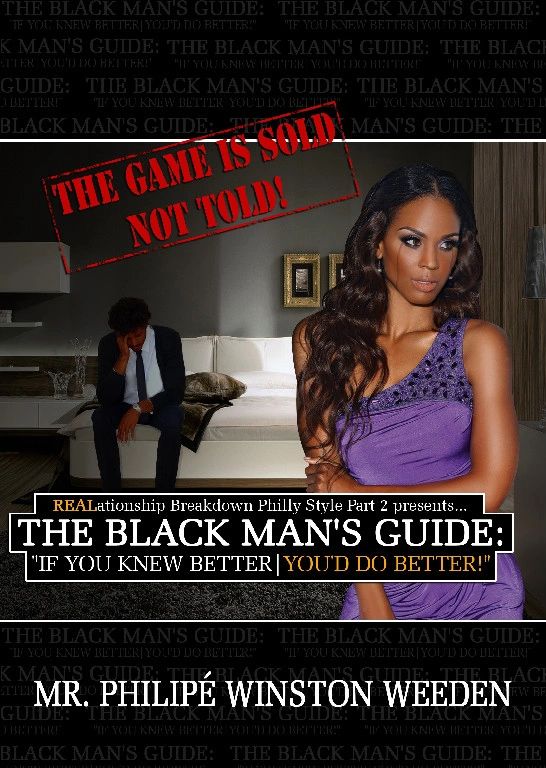 RELEASE DATE: Jan. 1, 2012
2 for 1 DEAL





Philly has done it again!! He is back with his second book and this is a sure win amongst his readers.

REALationship Breakdown Philly Style Part 2 presents…The Black Man's Guide: "If You Knew Better; You'd Do Better!"

Philly made sure that he lived up to the title of his collection REALationship Breakdown.

With the success of his first book REALationship Breakdown Philly Style: Based on Real Life Experiences, he broke down a relationship and this time he is breaking down the male partner of the relationship. "For so long we all ignored the signs, disregarded feelings and let men JUST BE MEN! Well, NO longer! I wrote this book specifically for the men who need more clarification. Those that struggle with respecting and treating women right and for the REAL women that needs to see better well rounded men."

In 10 INCREDIBLE chapters, Philly gives it to you raw and uncut! He holds back no punches. STRAIGHT. FORWARD. AND TO THE POINT! He has broken EVERY man law known to men!!! And just recently added "Q&A with Philly", where he answers some of you all's questions concerning men.

REAL women get ready! You said you wanted a REAL man. You asked where all the good men at. You said you were tired of the games. Tired of being played. Tired of living and feeling alone. Tired of dead end relationships. Well, Philly has heard your cry and answered ALL your questions with one book! GET READY! The game has just been sold! Do you want to know intimate details on his engagement? It's in here!!!!!!!!
The man you all have been waiting for is right inside!


~~~~~~~~~~~~~~~~~~~~~~~~~~~~~~~~~~~~~~~~~~~~~~~~~~~~~~~~~

SNEAK PEEK


3

"What Do Real Women Want?"
CHARACTERISTICS A MAN SHOULD POSSESS
GOOFINESS/ SILLINESS is what women want.
Men, women love to laugh. Love it!!! Once you conquered her laughing at you or because of something you may have said you will unlock something in her inner self from a childlike mentality. Be her comedian at any spur moment. Unplanned laughter. Never become too serious to where she can't enjoy having any fun with you.


HONESTY. This word alone is something we all cringe at the sound or thought of it. Men, you ask how much of honesty is needed? Well, women do want 100% honesty from you but nine times out of ten they can't handle it or needs confirmation from you about something they may already know. My take is own up to it because once you lie about it, you will have to continue to lie about a lie.


I'm sure I am not the only one that experienced a woman that keeps digging and digging asking questions after questions about who, what, when, where and why. And of course we don't want to mess home life up so we oblige and answer all the questions by lying. Only because we want to prove to her that we are a good man and have done no wrong. Just so we can make her look and feel stupid about bringing that to us in the first place.

Women want a man that has a REALATIONSHIP WITH GOD. It's no secret men that we are extinct in our churches. These days you will find...


~~~~~~~~~~~~~~~~~~~~~~~~~~~~~~~~~~~~~~~~~~~~~~~~~~~~~~~~~~~~~~~~~~~~~~~~~~~~~~~

REVIEWS




"Exceptionally written!!!" - Peter Benson, Author
"Preach!! This brother right here is on to something!" - Tim Rodgers, The Brothers Firm, L.A
"Straight educating the black man! The women of this decade have just gotten a lot of hope."
- Marsha Francis, Chicago Love Expert
"Wow, I wish I had read this book a while ago!" - Dre, Cleveland
"Philipé did a wonderful job portraying how to become a gentleman!" -Judge Keen, Stylist
"Impressed! My son needs to read this!"
- Betty Carson, PTA President
"Whomever becomes the man that's in this book, will surely be "The Catch" - Rebecca Cartwright, PH.D
"I couldn't have said it any better. This Author is VERY knowledgeable!!" - Dr. Kate Pearson, Texas
"Mr. Weeden has a beautiful mindset. I am in love with the way this man wrote this book!"
- Dr. T. Blakeson
"An OUTSTANDING book Philipé!!" - Joe Wilson, Gospel Artist, Fla.
"He needs an award RIGHT NOW!!" - Joe Jones, Author
"The day that these men REALLY read this book will be the day that this world will transfer the way it was intended to be!" - Pastor Beth, First Church of Christ, Michigan
"Philipé got my undivided attention from the first sentence I read!"
- Tom Greene, Creator of "The Jones"
"I read the first book, GREAT! And now I have read this second book, AWESOME! You getting good boy! Breaking it down is definitely what you are doing! Food for the soul. Keep doing what you are doing. You have a loyal fan this way!!"
- SFC. Ebony Carson, Germany
"I see play writing in your future Philipé. Better yet you can become a television show advisor. Think about it!" -J. Lawson, Esquire

"I need to meet his mother! His upbringing was great!!!"
- Officer Lodgea, UPD, Utah

"I can only pray that my daughter will meet a man like this one day. Wonderful!"
– Megan Justin, Proud Parent

"You can tell this book was written from experience. Philipé, you are a remarkable man. I cannot wait until your collection is complete!" - Kim Young, Relationship Counselor, Pennsylvania

"I LOVE following your Relationship Breakdown page on Facebook. You are VERY humble, handsome and smart! Keep uplifting us young man of God!" – Kim, FBF

"I need to buy every male in my family and here this book! Great job Philipé."
-S. Carlson, Dept. of State, Iraq

"Mr. Weeden, you have given me hope again! As I was reading how a man should approach a real woman I started thinking on how I would want that man to approach me. Excellent!!!"
-Robin Smart, Host of Blog Talk Radio, ATL

"As I sat back and read this book, I began to close my eyes and picture a man being exactly this way to me. GOOD JOB!!!" -Regina
"GOOD BOOK, GOOD READ!" - Jeff Wright, Musician
"I read the first book from this Author, but it seems like he is getting better with each book!! I LOVE THIS!!!" - D. Johnson, the Scene
"Every man of any age needs this book!" – A. Kirk, Barber
"This book was written with so much passion" -Dennis Roberson, Illinois Press
"I absolutely love to see young brothers like this that wants a genuine change in our communities, homes and relationships." -Kena Ray, Pure Romance Consultant, Fla.
"Funny. When I was reading this I thought about the song "A Change Gone Come" – Lee Tarkin
"YOU GO BOY!!!!" –Mrs.Juhns, School Of Arts, Ohio